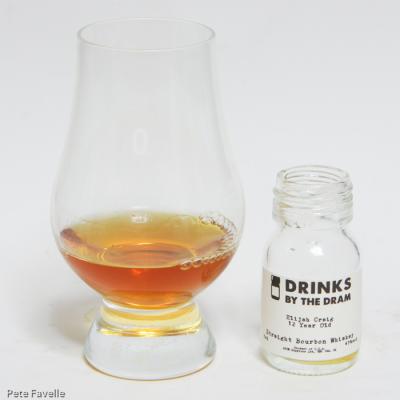 | | |
| --- | --- |
| Distillery: | Elijah Craig |
| Region: | Kentucky |
| Country: | USA |
| Abv: | 45% |
| Advent Year: | 2015 |
| Rating: | |
Elijah Craig is a brand owned by Heaven Hill, who also produce (among others) the Evan Williams we saw last week. The bourbon is named for Rev. Elijah Craig, who - Heaven Hill tells us - invented the bourbon we know today, after a fire in his warehouse charred the barrels that he was going to use to age his spirit.
Wikipedia (not the Repository Of All Truth, I admit) casts substantial doubt on this story, pointing out that "no actual historical evidence indicates that Craig's whiskey was unique in its time, nor that he practiced charring of the aging barrels".
Still, the whisky industry worldwide never lets pesky facts get in the way of a good story.
Elijah Craig 12 Year Old is an impressively dark bourbon, thanks to the long (for bourbon) 12 year stint in the barrel.
The nose has a more powerful alcohol than you might expect for the 46% ABV strength. Behind that is some nicely toasted wood, sweet vanilla custard and just a little dark, dried fruit. Watered, the fruit fades and the charcoal of the barrel shines through, along with a cleaner, more sugary sweetness.
In the mouth it's initially rich and smooth; raisins and dark maple syrup, slowly joined by a nicely building spice. The finish brings through some wood and lingering resin bitterness, which is very pleasant indeed.
Water takes away some of that richness; the fruit is lighter and the wood more apparent - still nice, but it's lost the extra dimension that it has when enjoyed straight. 4 stars, at least!
Many thanks to Master of Malt for providing their excellent Bourbon Advent Calendar this year.
---
---
This review was originally published 11th December, 2015. It was last updated 1st June, 2023.