Stout & Salty Roasted Peanuts Ice Cream - AKA Beer & Nuts Ice Cream
A guest post from my wife Kavey, author of Kavey Eats.
As a novice ice cream maker, it's probably not that wise to start inventing completely new ice creams.
But having launched a new ice cream challenge on my blog and set the theme for the first month to custard-based ice creams, I really wanted to do something a bit different. Having also promised Pete a recipe guest post for Pete Drinks, it seemed a great opportunity to double up, and I got it into firmly into my head that I wanted to make a beer ice cream.
Making custard from beer instead of milk was surely a wide spread phenomenon, I figured...
...until I Googled for recipes. I found plenty of root beer custards, made by making a regular custard and adding root beer flavouring. But I found only a single reference to making actual beer custard, and that in the midst of a rather odd video recipe of a traditionally-attired Oktoberfest fraulein demonstrating how to make beeramisu (yes, that's a beer version of tiramisu and has been on my To Make list for at least 3 years).
I decided to chance it, using a standard custard recipe but simply substituting the milk and cream for beer! This make this a pretty unusual recipe – it's a custard-base but it's dairy free! (Most beer custards and beer ice creams simply mix beer with regular custard or cream).
I chose stout because I wanted a rich beer flavour without too much hoppy bitterness, and I wanted a dark colour to distinguish my ice cream from a plain vanilla.
To give the ice cream some taste and texture contrast I decided to add salty roasted peanuts – the kind you can find in any pub across the land.
The result was astoundingly good – a butt-kickingly strong beer flavour countered by the salty crunch of the peanuts. I couldn't be more pleased with the results of this experiment, and hope you'll give it a try!
Kavey's Stout & Salty Roasted Peanuts Ice Cream
AKA Beer & Nuts Ice Cream
Ingredients
500 ml stout
125 grams sugar
5 egg yolks
50 grams dry roasted peanuts, chopped as you like or left whole
Note: I used Clarence Court Old Cotswold Legbar eggs which had very dark orange yolks.
Method
Put the beer into a small saucepan and heat.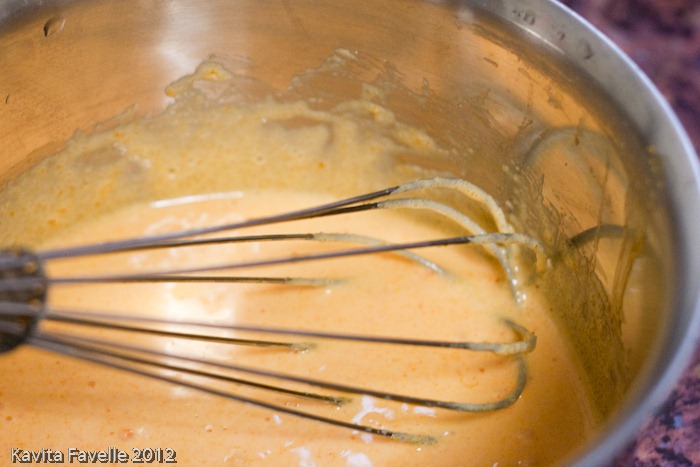 Beat the sugar and egg yolks together in a large pan.
Place the large pan onto a low heat and slowly pour in the hot beer, whisking all the time.
Cook the custard on a low heat for 10 - 15 minutes, whisking continuously.
Take the custard off the heat and allow to cool.
Pour the cooled custard into your ice cream maker to churn.
Once the mixture has started to thicken (about 10 minutes, in ours), add the peanuts and continue to churn until finished.
Our machine creates a fairly soft ice cream, so we usually transfer the ice cream straight from the machine to a box and pop it into the freezer for half an hour, to solidify a little more. The alcohol content helps keep it soft scoop straight from the freezer.
So is this a flavour that's got you salivating over your beer and nuts or running away screaming in horror? Let me know what you think and do please let me know how you get on, if you choose to make some yourself!
I'm entering this post into the new Kavey Eats 'bloggers scream for ice cream' challenge!
---
---
This post was originally published 19th February, 2012. It was last updated 1st June, 2023.